My favorite fall 2011 advertorials, in no particular order.
Ondria Hardin ♥, Dorte Limkilde (And some others, not in these shots), shot by Meisel.
Prada, because it makes me want to dress up in a coat, wear my sunglasses and move in slowmotion.
Carola Remer, shot by Inez & Vinoodh.
Ports 1961, because Carola is perfect and it makes me wish I lookd this great in mature clothes.
Mariacarla Boscono (And others, not in these pictures), shot by Mert & Marcus.
Givenchy because these pictures confirmed the fact that I like the combination of Asia&Europe (Like Chinese food, just 500m from your house. Lovely.)
And of course, because these images are so 'fierce'.
Juju Ivanyuk, shot by Cedric Buchet.
Elie Saab because I love to-the-neck splits, and Juju shows us the only right way to live in a dress with this feature.
Arizona Muse, shot by Glen Luchford.
Alberta Ferretti because when I trip I never look this classy.
Daria Strokaus (And others, not in these pictures), shot by Willy Vanderperre.
Jil Sander because the pattern on the jumper is mesmerizing. No other words appropriate.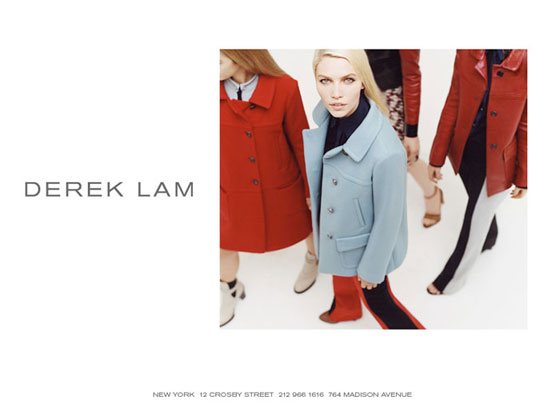 Aline Weber, shot by Alasdair McLellan.
Derek Lam because it's a little kitchy and it makes me want to walk in a really clean city, wearing a wool coat, perfect pantalon and ankleboots like in Derek's show. Inspiring.
Which shows and prints did you like?